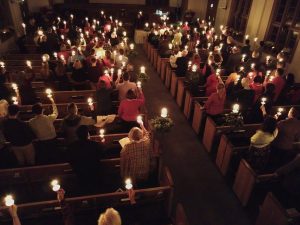 In 2021, we rejoiced in being able to worship together in person again. Yet, many also join us virtually. Either way, our hearts continue to  long for the hope of Christ in this Christmas season and beyond. We hope you will join us - live or virtually as you choose - to make this season special and full of joyful expectation.
Masks are required for all events.
In-Person and Virtual Worship Each Sunday in Advent
(Nov 28, Dec 5, Dec 12, Dec 19)

You may join us in the Sanctuary or tune in on Facebook or Youtube each Sunday at 10:30am for our traditional Advent Worship. We'll have familiar Advent and Christmas songs, Advent wreath lighting by a different family each week, and timely messages for this season of waiting.
Growing In Faith Together (GIFT) Fellowship (Sun, Dec 5, 11:45-12:00)

All ages are welcome to this very brief, on-the-go, outdoor fellowship. We'll have cocoa and cookies right outside the narthex on your way out, and children will be invited to create an Advent Kindness Tree to inspire and celebrate your family's acts of kindness in the Advent/Christmas season.
Bluegrass Concert by Dunlap and Mabe (Tues, Dec 9, 7pm)

This concert will be held in the sanctuary.
Service of Lessons and Carols

 (

Sun, Dec 19, 10:30am)
Experience the traditional stories and carols you love, with a timely message of hope for all. The Grace worship team, choir, bell choir, congregation, and AV team have put their best efforts forward to involve many familiar faces, introduce a variety of choirs and solos alongside the readings, and give us all a worshipful, wonder-filled worship opportunity.
You may join the service in-person (with masks) or by streaming online at Facebook and Youtube beginning at 10:30 am. As always, the livestream services will also be available for viewing later.
Service of the Longest Night 

(Sun, Dec 19, 7pm)
Each year during Advent, we take time on the longest night of the year (or close to it) to remember the ways that the Christmas season is not only full of good cheer, but also quiet and contemplative; not only full of celebration, but sometimes reminiscent of loss. We believe this is a meaningful time to experience a different side of the Christmas story; after all, Jesus Christ came into the world not when things were at their best, but just at the moment the need was deep and the night was long--for the people Israel, for the world, for all of us.
As the pandemic stretched into another year, we've all experienced losses of many kinds; we carry those losses as well as our joy into the Christmas Season. Join us in person or by livestream on Facebook or Youtube for an interactive service that will recognize the complexity of this year's Christmas season and help us nges for this season of waiting.

Outdoor Christmas Eve Worship on the Front Lawn
(Fri, Dec 24, 5pm)
Come one, come all, invite your friends! Join us outside on the front lawn for a family-friendly service with carols, the Christmas story, campfires, candlelight, cocoa and cookies. This will not be livestreamed. In case of predicted inclement weather, this service will be moved to Dec 23 at 5pm.
Traditional Christmas Eve Service

(

Fri, Dec 24, 7pm and 9pm)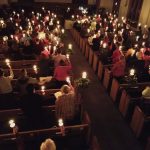 Experience the traditional Christmas Eve worship service with candlelight, communion, stories and carols you love. The 7pm and 9pm services will be identical. Please help us safely spread out between the two services by registering online (https://rsvp.church/r/s0GUW1Dc).
The 7pm service will also stream online at Facebook and Youtube and will be available online afterwards.