In the fast-paced area in which we live, Grace seeks to provide a space for our middle and high school students to belong to a community
and to grow in their understanding of God. Whether we are serving the world with a mission project, playing games at church, out on an adventure, talking about challenges, or wrestling with matters of faith, we are in a caring and brave space.
Youth Group
Our youth group, for students in 7th - 12th grades, meets twice a month on Sunday evenings (5:00 to 7:00 p.m.) throughout the school year for fellowship, study, and service.  One additional Sunday evening (5:00pm to 7:00 p.m.), high school students in 9th- 12th grades meet for "Grub and Grace":  a small dinner and faith group. Seasonal retreats help us deepen in relationship and faith together. For more information, Contact Pastor Katie or Chuck Barber, Youth Elder.
Click here for a current calendar of activities: Youth Group: Fall 2019
Mission Activities
Here at Grace, and especially with ou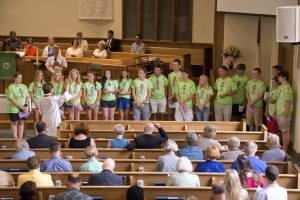 r youth, there is a deep commitment to helping others. Every year the Youth Ministry Team coordinates mission opportunities for Grace Youth. Mission activities from past years have included food preparation and service at a District soup kitchen, sorting and packing supplies at ECHO, serving as tutors in our Monday night tutoring program, participating in the annual CROP Walk, and selecting and wrapping Christmas gifts for students at a nearby school who might not otherwise receive gifts. There are also annual summer mission trips to Petersburg, Virginia, and Honduras. See the church's Mission page for more information on these important mission opportunities.
Conferences
Grace offers our youth opportunities to attend summer retreats and conferences--to step out of the hustle and bustle of our normal life, grow in community and faith, and join with youth from around the region. Middlers (grades 6-8) attend Camp Massanetta Springs in Harrisonburg, Virginia. There, they can enjoy an energizing and community-building week of games, recreation, worship and Bible study with friends old and new. New this year: High schoolers (grades 9-12) will attend Montreat Youth Conference, where they can retreat to the beautiful mountains of Black Mountain, North Carolina. At Montreat, we will stay in college dorms, get closer with youth group friends, and meet God in new ways. Contact Pastor Katie for details.
Confirmation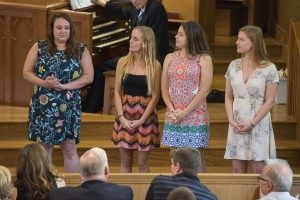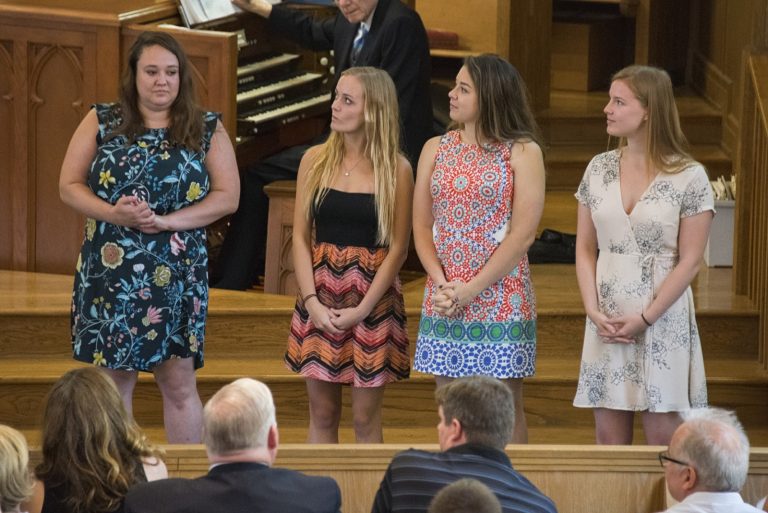 We offer a one-year confirmation class for youth who are in at least 8th grade. The class meets in the Tower Room during the education hour on Sunday mornings. The program is designed to support young people's exploration of their faith and prepare them for the commitment to Christian life as members of the church. Contact Pastor Katie.
Christian Education
Junior and Senior High youths who are not in the Confirmation Class meet during the education hour to deepen their understanding of God. See the church's Christian Education page for information about educational offerings.