Our  Sunday morning worship service is at 10:30 a.m., with  music beginning at 10:20. Additional services are added during Lent and Advent. The choir, praise band, hand bells, organ, and voices of the congregation combine with powerful, Scriptural interpretation to provide a dynamic Presbyterian worship experience. We invite you to be part of the experience!
Community in Worship

Fellowship within the community of believers is important at Grace.  During the worship service, the Passing of the Peace and sharing of joys and concerns provide opportunity for us to bond as a community. Every Sunday, refreshments are also served in Wester Hall (the fellowship hall) following the worship service.
Banners, Paraments, and Tree
We invite the presence of art into our worship with large, beautiful banners in the front of our sanctuary. These banners rotate to mark changes in the liturgical year (Advent, Lent, Easter, Pentecost, and Ordinary Time). The colors of the banners correspond to the seasonal changing of the paraments on the pulpit. In addition, trees, visible through the window that frames the cross behind the pulpit, mark the passage of nature's seasons, from spring's gold, to summer's green, to autumn's fiery orange. As we worship amid the changes of nature's seasons and the church calendar, we enjoy the beauty of art and nature, and we celebrate God's gifts.
Facebook Live/YouTube Webcasts of the Worship Service
The worship service is broadcast live on the church's Facebook page and YouTube channel (Grace Presby) each Sunday morning, starting at 10:30a.m.. We encourage online participants to use the Comment section to greet each other, ask questions, and make prayer requests.
Archives of the Services/Sermons
Sermons are uploaded to the website, in both text and video form, for those who cannot attend on Sunday or would like to review or share the sermon. Videos of full services and sermons can also be found on the YouTube channel (Grace Presby).
CHILDREN AND WORSHIP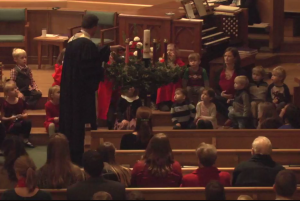 Grace's worship services are open to children of ALL ages, even when they make a joyful (or not-so-joyful) noise. Activity bags are provided in the lobby, a children's message is given in the first section of the service, and children are always welcome to stay for the whole service. A nursery and age-appropriate worship/learning are also available.
All offerings for children follow our Child Protection Policy; all staff and volunteers have been background checked.
Nursery Care
A nursery is provided during the Sunday worship service and for most special worship services. We have two professional nursery workers who provide comforting care to our little ones. Contact Kathy Giese, Children's Discipleship Elder, for more information.
Play 'N Worship (3- and 4-year olds)
Following the children's message, Play 'N Worship is held downstairs in classroom 9 for three- and four-year-olds. Volunteer teachers provide an age-appropriate setting for Bible story and activity, after which children spend the final minutes of the service in the nursery.
Bridges to Worship (K-3rd grade)
Following the children's message or children in kindergarten through 3rd grade, Bridges to Worship is held in classroom 12. Bridges is based on the Godly Play curriculum, a child-centered liturgy of songs, prayers, stories, and creative work. Bridges to Worship is NOT held on the 1st Sunday of each month, to allow our elementary worshipers to participate in communion and experience the full worship service with their families.
COMMUNION
Communion is a sacred time to renew and strengthen our faith. Grace Presbyterian Church is an inclusive community, and all are welcome to the table.
Communion is served the first Sunday of the month and at additional services throughout the year. We accommodate individuals with special needs attending the service, and communion is delivered off site to members who are unable to attend. The "bread and wine" are bakery bread and grape juice, with a gluten-free option.
BAPTISM
Children's Baptism
The sacrament of baptism for infants and children signifies God's love and commits the parent(s) and congregation to support that child's growth and instruction in the Christian faith. There is no minimum age for infant baptism. Parents seeking baptism for their child should contact Pastor Ben or Pastor Katie.
Adult Baptism
Baptism is a sign of your acceptance of Jesus Christ as your Savior. Your baptism from any Christian faith, whether as a child or as an adult, regardless of how the water is administered, is acceptable in the Presbyterian Church. To discuss baptism, or to arrange for it, contact Pastor Ben or Pastor Katie.
 SPECIAL SERVICES
Weddings
Members and those related to members may choose Grace Church as the site for their weddings. First, ask one of the pastors to work with you in counseling and to perform the ceremony. When a date for the wedding is selected, our wedding coordinator will assist in planning the use of the Sanctuary, Fellowship Hall, musical instruments, and AV on your wedding day. Contact the Office Manager or the Pastor of your choice to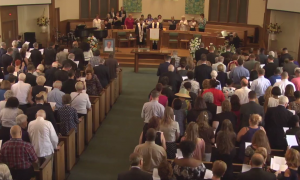 begin your plans.
Funerals and Memorial Services
Services upon a member's death give the congregation a way to celebrate their life and say farewell. Members know that Grace will be there for them to carry out their last wishes for a service for a friend or a loved one. Sometimes, other venues are chosen for a funeral or memorial service. Loved ones should contact the office, even if they do not wish to hold a funeral at Grace. The Pastors are ready to offer comfort and support either way. Contact the Pastors or the Office Manager to talk through your desires for a service.