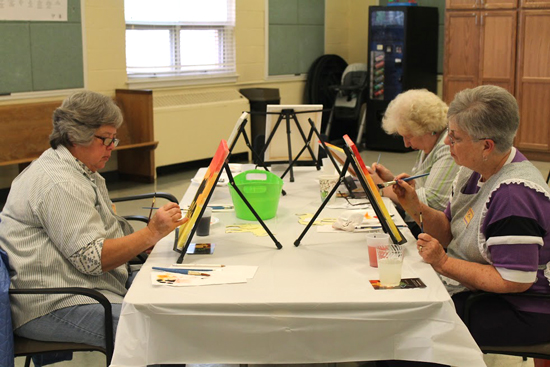 Senior adults play an active role in every aspect of the life of Grace Presbyterian's ministry, from serving on the Session and Board; leading worship as liturgists, choir members, and ushers; participating in local and global mission projects; and joining Adult Discipleship classes as either teachers or students.  A special program, Aging With Grace (AWG), provides additional opportunities for the spiritual journey of seniors at Grace, through exposure to resources, activities, events, and specialized services. Most, but not all, AWG events are meeting online or accessible online for the present.
Caregivers' Support Group
The Caregivers' Support Group meets regularly to study and review meaningful materials relevant to those who find themselves in the role of caregiver. Depending on interest, they may study a book together, receive guest speakers, or they may simply share their current joys and struggles in providing for their loved ones. Recent topics have included coping with dementia, self-care, and more. Caregivers meets on Zoom on the last Tuesday of the month.
Local Outings and Seasonal Events
Members and friends participate in outings to local sites of interest: the Mormon Tabernacle, the Museum of the Bible, Richmond Hill retreat center, and more. In fall 2022, a trip is planned to the Sight and Sound theater in Pennsylvania. AWG also hosts seasonal events such as outdoor concert, spring luncheon, and Advent gathering.
Brown Bag Lunches
Monthly Brown Bag Lunches on the third Wednesday of each month invite participants to bring a lunch and learn from a fascinating range of guest speakers. Recent speakers have presented programs on mission (Friends of Guest House transitional home for formerly incarcerated women, Bethany House domestic abuse shelter), health professionals (Mental Health, Veterans Benefits, County Aging Resources, Hearing Loss), and spirituality (praying the labyrinth, faith and climate change).
Special Interest Groups
Special interest groups meet monthly for fellowship.
Trailblazers, our senior dinner group, chooses a restaurant and gathers for fellowship on the third Tuesday of each month.
In the past, we have held groups to play Mahjong and Bunco. These have been on hiatus since 2020 but these or other groups may always pop back up based on interest.
Let Yvette Moy know if you'd like to join or start a special interest group.
Greenspring Residential Community
A bus transports worship attendees from the local Greenspring Residential Community each Sunday. Contact Yvette Moy for more information. Lunches with Grace ministers and staff are periodically scheduled on site at Greenspring as well.
Resources
A resource display in the Tower Entrance provides written materials and pamphlets that inform and support seniors.  Materials are regularly added.
Homebound Ministry
Grace also ministers to homebound members through visits, mailings, and home communion. Please let the Yvette Moy know if you or a loved one is in need of a special visit at any time.
Contact:
Yvette Moy, Director of Aging With Grace
aging@gracepresby.org
703-451-2900 x 4