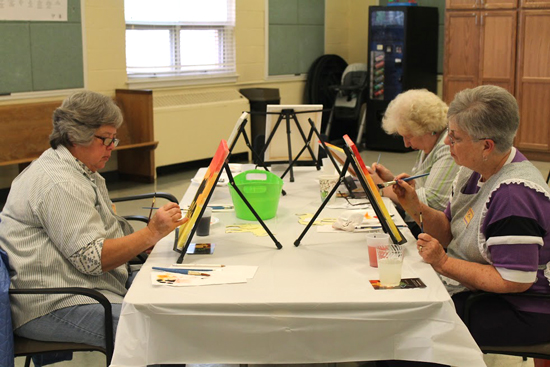 Senior adults play an active role in every aspect of the life of Grace Presbyterian's ministry, from serving on the Session and Board; leading worship as liturgists, choir members, and ushers; participating in local and global mission projects; and joining Adult Discipleship classes as either teachers or students.  A special program, Aging with Grace, provides additional opportunities for the spiritual journey of seniors at Grace, through exposure to resources, activities, events, and specialized services.
Resources
A resource display in the Tower Entrance provides written materials and pamphlets that inform and support seniors.  Materials are regularly added.  Recent examples include booklets for the Longest Night Service including Tim Jackson's Life After Loss: Grieving with Hope, Alice Matthew's God With Us: The Promise of Christmas, and Billy Graham's Heaven DVD.
Caregivers' Support Group
The Caregivers' Support Group meets regularly to study and review meaningful materials relevant to those who find themselves in the role of caregiver.  For example, they have studied Missy Buchanan's Living with Purpose in a Worn-Out Body: Spiritual Encouragement for Older Adults and Regina Brett's God Never Blinks: 50 Lessons for Life's Little Detours.
Local Outings
Members and friends participate in outings to local sites of interest. Trips, such as to the Library of Congress, the National Botanical Gardens, and the Frederick Douglass House, are planned throughout the year. Other events of interest bring seniors together with theater and lectures, such as seeing actor David Payne as C. S. Lewis at Cornerstone Evangelical Free Church in Annandale, and Dr. Amy-Jill Levine's seminar, Understanding Jesus Means Understanding Judaism, at Emmanuel Lutheran Church, Bethesda, MD, where attendees received a free copy of The Jewish Annotated New Testament gratis the Lilly Foundation.
Special Interest Groups
Special interest groups meet monthly for fellowship and learning.  Trailblazers, our senior dinner group, chooses a restaurant and gathers for fellowship on the third Tuesday of each month. Brown Bag Lunches offer meals with instructive guest speakers in the Family Room on the third Wednesday of each month. Connie Denninger, a typical Brown Bag Lunch guest speaker, presented a program on Bible journaling and praying in color. Member Alan Goldstein presented his photo collection of pictures taken at the new African American Museum before and after its recent opening. Bunco and Mahjong players also enjoy fellowship and games once a month.
Seasonal Gatherings
Seasonal gatherings are also popular. Nearly 50 attend the AWG Advent Lunch in Wester Hall each year and the annual Spring Luncheon.  Entertainment has been provided by the Chime Choir from Greenspring Residential Community, the Snappy Tappers, a senior tap dancing group, and Santa who visited the preschoolers before naming door prize winners.
Greenspring Residential Community
A bus transports worship attendees from the local Greenspring Residential Community each Sunday. Contact the Yvette Moy for more information. Lunches with Grace ministers and staff are periodically scheduled on site at Greenspring as well.
Homebound Ministry
Grace also ministers to homebound members through visits, mailings, and home communion. Please let the Yvette Moy know if you or a loved one is in need of a special visit at any time.
Contact:
Yvette Moy
Director of Aging With Grace