Children, youth, and families are an integral part of our ministry at Grace.  Read below for more on our Christian education and seasonal gatherings for families!
All offerings for children and youth follow our Child Protection Policy; all staff and volunteers have been background checked and fully vaccinated against Covid-19. Contact Pastor Katie (703-451-2900 x3) for more information about any of our Christian formation activities.
Family Faith Formation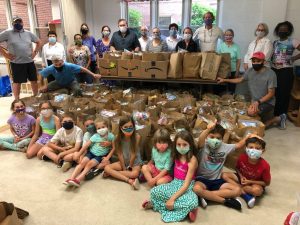 Family Faith Formation is a new opportunity for school-age children and their families. We will host quarterly programs on Sundays right after church four times throughout the school year. Program includes a simple lunch followed by interactive and fun programs on key faith topics. Our 22-23 gatherings are below:
Sunday, October 9, 12-1:15 pm: Good Stories and the Great Story (reading the Bible with wonder and joy). Come explore some of your favorite stories--biblical and otherwise--and enjoy storytelling and wondering together as we consider ways to make family Bible reading engaging for all ages.
Sunday, December 11, 12-1:15 pm: Christmas Workshop (Jesus and the Christmas story). Come join us for Advent-themed crafts, treats, music, and all the favorites of the season as we take a moment to enjoy fellowship and think about the Christmas story and what it tells us about who Jesus is.
Sunday, Feb 26, 12-1:15 pm: Growing Seeds (Lent and connecting with God). During the Lenten season, we grow our faith. Come help us grow literal seeds and seeds of faith as we touch on the classic pillars of lent that nurture our family's faith throughout the year: prayer, simplicity, and giving.
Sunday, April 30, 12-1:15 pm: Sanctuary Scavenger Hunt (worship and sacraments). Framed as a friendly game/competition, we'll explore the place where we worship each Sunday to discover hidden treasures and explore the meaning of worship, baptism, and communion.
"SUNDAY SCHOOL" TAKES MANY FORMS
Play 'n' Worship and Bridges to Worship: Children in preschool and elementary school may participate in our children's worship programs, which teach Bible stories and faith concepts. These programs meet downstairs during the second half of our 10:30 am worship service (see our Worship page for details).
Grace Rising: Children in 4th- 6th grades talk about faith and life, while also growing in friendship and community together. This program meets monthly on Sunday afternoons as a kind of pre-teen youth group (see our Youth page for details).
Pandemic Archive:
We're always seeking to creatively meet the needs of our families. Sunday School has evolved for us during the pandemic. Here are some of the fun and new activities we did to keep families engaged the past few years:
Spring 2020- Saturday Storytime for kids on zoom: a simple time of Bible story, songs, show and tell, and connection.
Summer 2020- Compassion Camp online/at-home VBS, engaging our own members as well as many of the Grace preschool families!
2020-21- Grace for Kids: Video lessons during the online children's sermon, with activity packets delivered to home. Study topics throughout the year included "Beatitudes" (learning about what is blessed in the kingdom of God), the "Stories of Jesus" (studying the stories about Jesus along with a churchwide study of the gospel of Luke), and "Celebrate resurrection!" (stories of new life and hope during the Easter season). Grace for Kids lessons were supplemented by Extra Grace for Kids, monthly Zoom gatherings for fellowship and to keep kids connected to us and to one another.
2021-22- GIFT: Growing in Faith Together: Monthly, outdoor, intergenerational gatherings with snacks, learning, and service.
Throughout the pandemic and even into the present: Advent Kits and Lent Kits with simple, faith-based activities for families to do together during these holy seasons.
ADDITIONAL OPPORTUNITIES FOR CHILDREN AND FAMILIES

During the summer for Vacation Bible School, we often partner with another local church to offer a week of Bible learning, crafts, and other fun activities for children ages 4 through 5th grade.
Middle and high school youth at Grace gather regularly for youth fellowship. They also participate in Tri-Cities Work Camp and other key missions of the church. See the Youth and Missions pages for more information.
Grace's mission activities serve as a focal point for bringing families together at the church. See the Missions page for more information.
We also offer several special events throughout the year for families. Typical events include:
Easter Eggstravaganza- An egg hunt held the Saturday before Easter, with breakfast, crafts, and the Easter story
Oktoberfest - A fall festival for families held each October
Advent Festival- Festive dinner, crafts, and story time held early in December
"Like" or "Follow" the Grace Presbyterian Facebook page to stay up-to-date on activities at the church.