Make a joyful noise unto the Lord —The Grace music program offers a wide range of opportunities for all musicians: vocal, bells, keyboard, and all other instruments. So dust off those vocal cords and instruments and come join us!
Men's Chorus
Men's Chorus meets once a quarter and is open to all. Practice begins at 10:00 in the choir room. If you have yet to join us, please give it a try. You'll enjoy the Christian fellowship, good food, and singing.

Chancel Choir
Grace's adult choir meets for practice on Thursdays from 7:30 to 8:45 p.m. All are welcome and needed to help raise our voices to heaven, even if you don't have a solo voice! Contact Music Director Scott Seifried for more information.

Joyful Ringers
Grace's adult handbell choir, The Joyful Ringers, welcomes new members at any time during the year. Participants should be 16 years of age or older, able to read music, and willing to attend Monday evening rehearsals from 7:30 p.m. to 9 p.m. Please contact director Jackie Owen for more information.

The Praise Band
The Praise Band rehearses at 8:30 on Sunday mornings, and helps lead worship and typically special services. If you like to sing or play an instrument, please join us. Contact Music Director Scott Seifried for more information.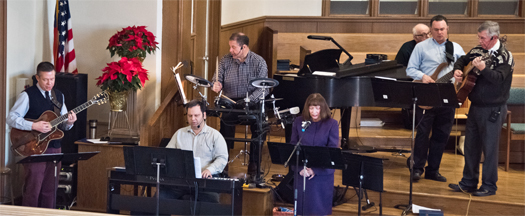 Children's Choir
Children's Choir teaches 1st - 6th graders the music of the church and how to praise the Lord through song. They develop their voices using vocal warm-ups, musical games, and the basic foundations of reading music. They also have fun singing in a variety of styles: traditional hymns, gospel songs, folk music, and contemporary worship songs. We look forward to the Children's Choir sharing their talents with the congregation on special occasions throughout the year.  The Children's Choir meets in the Choir Room on Sundays at 12pm following service, led by volunteer directors Jennifer Neel and Virginia Bouchard.