SPECIAL EVENT
What's Faith Got to Do with It?
Christians Responding to Gun Violence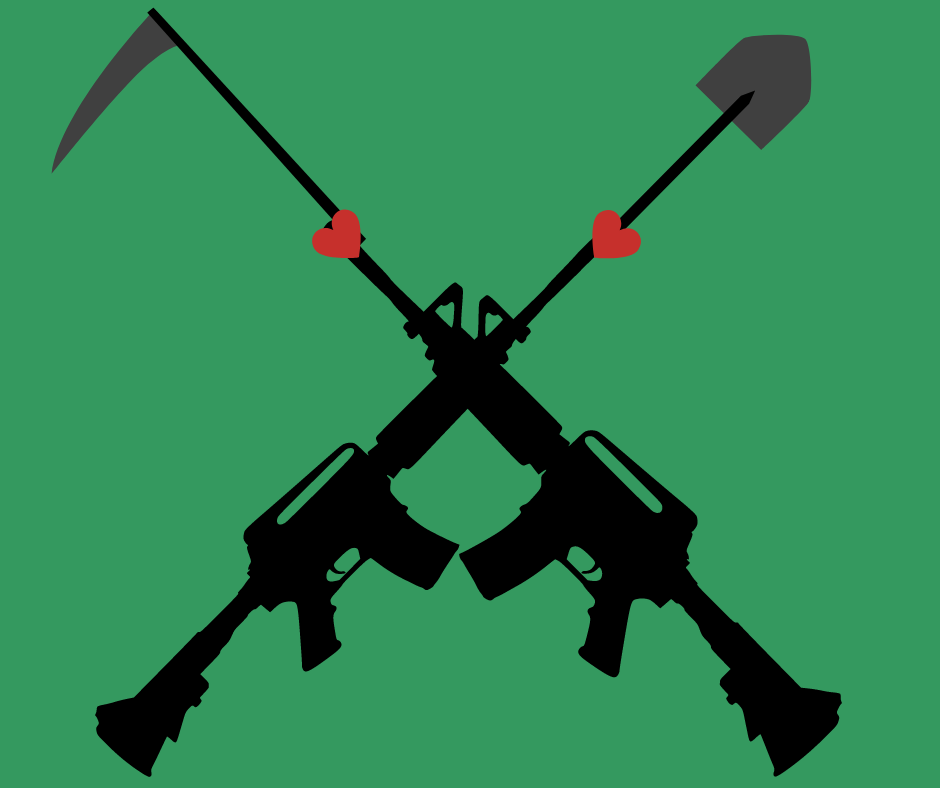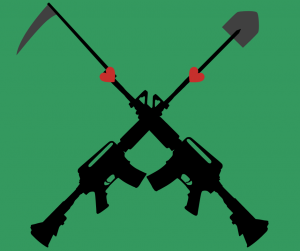 "Don't you think the Church of Jesus Christ should say something about gun violence today?" 
- the late Rev. Jim Atwood, former Grace pastor and author of Collateral Damage: Changing the Conversation about Firearms and Faith
In a hyper-partisan era that is starved for fresh imagination, what is the church to say?

On March 19-20, 2022, Grace Presbyterian Church partnered with the Presbyterian Peace Fellowship and Perceptions: Exploring Gun Violence to sponsor a weekend of events around responses to gun violence grounded in what it means to be followers of Jesus Christ. The keynote event featured the Rev. Deanna Hollas, the Gun Violence Prevention Ministry Coordinator with the Presbyterian Peace Fellowship and a founding member of the Everytown for Gun Safety Interfaith Advisory Council, and Shane Claiborne, a prominent speaker, activist, best-selling author (including Beating Guns), and founder of Red Letter Christians. They spoke on how we as individuals, churches, and communities can equip ourselves to say--and do--something meaningful about gun violence in the United States.
The goals of the weekend event were to enable participants to:
Ground conversations about gun violence within Biblical understandings of community and nonviolence
Recognize the far-reaching and complex effects of gun violence on individuals, families, communities, and the nation
Identify faith-based courses of action to take, both individually and as churches
Speaker Panel: Shane Claiborne and Rev. Deanna Hollas (

View Full

Event

)
You can view the full panel in the link above or view the individual speaker presentations and Question/Answer session from the inks below.
"Unmasking the Powers Behind Gun Violence": Rev. Deanna Hollas, Presbyterian Peace Fellowship (

View Presentation

)
"Beating Guns: Hope for People Who are Weary of Violence": Shane Claiborne, author of Beating Guns (Vi

ew Presentation

)
Question and Answer Session and Closing Remarks (

View Session

)
Trigger: The Ripple Effect of Gun Violence - Viewing and Discussion
Participants had the opportunity to view this documentary in preparation for the Speaker Panel. Funded by PC(USA) in 2017, Trigger examines the effect that gun violence has on a survivor, family, community, and society. It is told from the perspective of those who have been directly impacted and those who are called daily to respond. Recommended for mature teens and adults.
You can watch the documentary on the Roku Channel (free) or on Amazon Prime (small fee) prior to Saturday's discussion. (Here's a study guide to go with the documentary)
Worship Service, Sunday, March 22, 2022
Grace's Sunday morning worship service on March 20, 2022, was themed around the issue of gun violence and included a special sermon by Rev. Dr. Ben Trawick on a call to action, based on the parable of the Good Samaritan. Grace also recognized the late Rev. Jim Atwood, previous Grace pastor and committed advocate for gun violence prevention.
We've compiled a list of resources to help equip Christians to respond to gun violence in the United States. The link above includes resources recommended during the keynote speaker panel discussion.
During the speaker panel, participants were asked what they could do in response to gun violence. The responses are reflected in the word cloud below. In the link above, we've compiled these and other suggestions into a list of actions we can take as individuals and faith communities to respond to gun violence.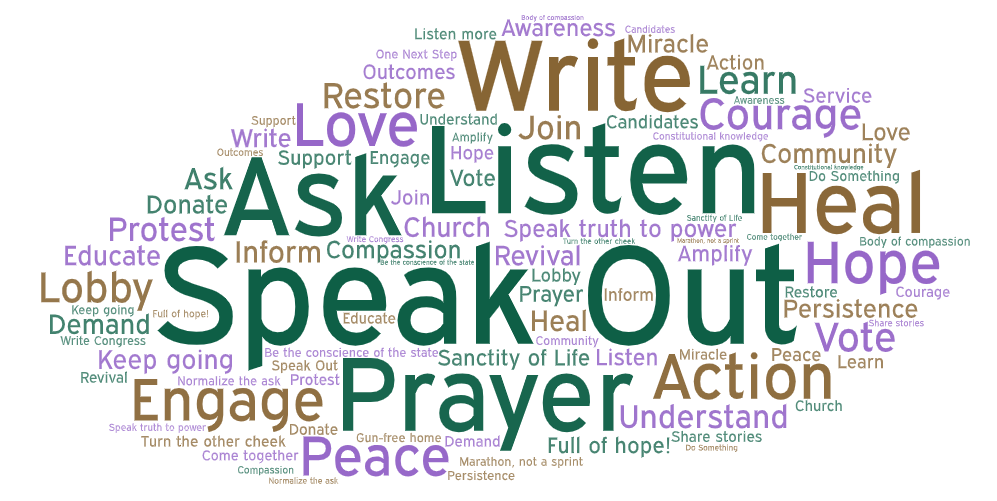 Event Co-Sponsors: