Faith formation is important. It affects how we as adults interact with God--and with our families and communities, in the workplace, and in the larger world. In addition, continued adult study models for our children that faith's journey is never complete! Adults are encouraged to find regular opportunities to learn more, grow more, and reach deep.
Grace Presbyterian Church has a variety of opportunities for adults to continue to develop their faith, including weekly Sunday morning programming, Tuesday night pub theology conversations, and monthly multi-age fellowship/explorations.

To stay up-to-date on what's going on, "like" or "follow" the Facebook page for  Grace Presbyterian Adult Ed.
Sunday Morning Seminar
Leaders: Rotating
Sundays: 9:15-10:15 a.m.; Family Room (downstairs)

This class is a long-running Sunday morning class at Grace. The group tackles different themes throughout the year, led by a variety of leaders drawn from the class.
Jan - Feb 2019: Two of the minor prophets, Amos and Hosea, lived in a culture that mirrors our challenges today – boundaries between religion and politics, worship and service, us and them.  This study will use Kerygma curricula to learn about these prophets and explore their relevance in the modern world.
Nov - Dec 2019: We studied one of the longer "major prophets" with this 'Introduction to Isaiah,' and then a focus on the Advent portion of Handel's The Messiah which draws texts from Isaiah and other prophets.
Sept - Oct 2019: We kicked off this year's program with Animate: The Bible, which used videos to explore different perspectives on the Bible: Canon; History; Testaments; Gospels; Genre; Interpretation; and Grace.
Coffeehouse Class
Leaders: Nelson Thurman, Amy Trawick

Sundays, 9:15-10:15 a.m.; Room 10 (downstairs)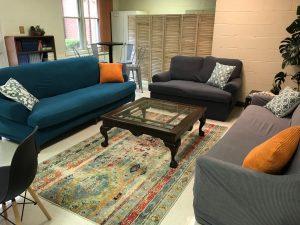 The Coffeehouse Class is a new discussion-based class that uses books by popular authors to explore what it means to be a thinking, questioning Christian in the modern era. Come any time after 9:00 a.m. to enjoy flavored coffees and teas and to catch up with fellow classmates. Class begins at 9:15.
Nov 2019 - Feb 2020: We are currently learning from Nadia Bolz-Weber's book Accidental Saints: Finding God in All the Wrong People to challenge our thinking on saints, sinners, and the grace of God. You may read along with us or just come for the discussion. (NOTE: Feel free to bring a favorite coffee mug to keep in the room!)
Sept-Oct 2019: Using Rachel Held Evans' book Inspired: Slaying Giants, Walking on Water, and Loving the Bible Again, we explored questions about the Bible like What do we mean when we say the Bible was inspired by God? and How do talking donkeys or stories of violence fit in with what we know about God?
Pub(lic) Theology
Leader: Nelson Thurman
Every other Tuesday (check Facebook page for the next meeting)
7:30-9:00 p.m. at local restaurants
Whether it's wrestling with the breaking news of the day, the messiness of everyday life, or questions of faith, we learn, grow, and find comfort with each other. We don't have all the answers, but we offer a safe place to explore the questions. Join your friends from Grace - and friends you bring - for a lively evening of food, conversation, and fellowship! Contact Nelson Thurman () for more information.
Men's Fellowship Breakfast
Leader: Roy Giese
Second Saturday of the month
8:00-10:00a.m.; Wester Fellowship Hall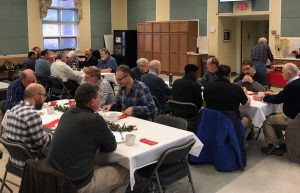 The men of Grace have a vibrant program that started over 20 years ago. The group gathers at 8:00 a.m. for a delicious breakfast, a nourishing Bible study, and supportive fellowship.
Women's Fellowship
Leader: Donna Lucas
Third Saturday of the month
9:30-11:00 a.m.; Family Room (downstairs)

Come join the women for fellowship and Bible study each month--or whenever you can make it!
Circle 6
Leader: Mary Helmantoler

First Wednesday of each month

9:30-11:30 a.m.; Family Room (downstairs)
Our Presbyterian Women's circles have a long history at Grace. Circle 6 is alive with Bible study, fellowship, and special mission projects. They meet on the first Wednesday of each month from September to June. This year the circle is studying Love Carved in Stone (10 Commandments).
Intergenerational GIG (Growing in Grace)
Dinner (informal; come when you're able): 5:30 - 6:30 p.m.
Program: 6:30-7:30 p.m.
Wester Fellowship Hall
This family dinner and activity program continues this year as a way to encourage inter-generational interaction and spiritual growth.
Upcoming programs include the Shrove Tuesday dinner and pancake races, where we will engage the meaning of Lent (Tues, Feb. 25).
Fall programs included "Woman at the Well in Modern-Day Nablus" (Oct. 2); "Thinking of Thanksgiving" (Nov. 6); and "Preparing the Way in Advent" (Dec. 4).