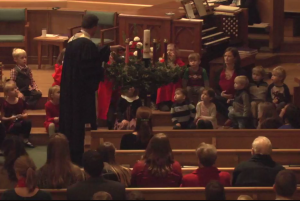 Advent refers to the four weeks leading up to Christmas. It means "coming" or "arrival" and is a time of waiting for the glorious occasion of the birth of Jesus, celebrated on Christmas Day. During this time of waiting, Grace offers opportunities to explore the meaning of the manger through word and song, music and mission. All are welcome!
For opportunities to give locally and globally during the Advent season, click on Giving with Grace: Advent/Christmas 2022.
In-Person and Virtual Worship Each Sunday in Advent
(Nov 27, Dec 4, Dec 11, Dec 18)

You may join us in the Sanctuary or tune in on Facebook or Youtube each Sunday at 10:30am for our traditional Advent worship services. We'll have familiar Advent and Christmas songs, Advent wreath lighting by a different family each week, beautiful music, and timely messages for this season of waiting.
Mount Vernon Community Band: Christmas Concert (Sat, Dec 10, 3:00-4:00 pm)

The Mount Vernon Community Band will play Christmas tunes beloved by young and old. Bring your kids, your parents, and your friends! Refreshments will follow.
Family Faith Formation: Christmas Festival (Sun, Dec 11, 12:00-1:15 pm)

After worship, join families with preK and elementary-age children in the Family Room downstairs, for interactive learning and celebration! We'll share a simple lunch and explore the meaning of Christmas through fun and festive activities.
Help the Homeless 

(Sat

, Dec 17, 9:30 am)
Bring your friends and family to help put together backpacks for homeless neighbors in our area. The backpacks include such things as a hygiene kit, paper towels, mouthwash, a sack lunch, and a Bible. After the backpacks are filled, a group will take them to DC and parts of Fairfax County to distribute directly to neighbors experiencing homelessness.
Service of Lessons and Carols

 (

Sun, Dec 18, 10:30 am)
Experience the traditional stories and carols you love, with a timely message of hope for all. The Grace worship team, choir, bell choir, congregation, and AV team have put their best efforts forward to involve many familiar faces, introduce a variety of choirs and solos alongside the readings, and give us all a worshipful, wonder-filled worship opportunity.
You may join the service in person or by streaming online at Facebook and Youtube beginning at 10:30 am. As always, the livestream services will also be available for viewing later.
Service of the Longest Night 

(Wed, Dec 21, 7:00 pm)
Each year during Advent, we take time on the longest night of the year (or close to it) to remember the ways that the Christmas season is not only full of good cheer, but also quiet and contemplative; not only full of celebration, but sometimes reminiscent of loss. We believe this is a meaningful time to experience a different side of the Christmas story. After all, Jesus Christ came into the world not when things were at their best, but just at the moment the need was deep and the night was long–for the people Israel, for the world, for all of us. This service is designed to make space for the grief and longing that accompanies the season for many.
Join us in person or by livestream on Facebook or Youtube.

Outdoor Christmas Eve Worship on the Front Lawn
(Sat, Dec 24, 5:00 pm)
Come one, come all, invite your friends! Join us outside on the front lawn for a family-friendly service with carols, the Christmas story, campfires, candlelight, cocoa, and cookies. In case of predicted inclement weather, this service will be moved to the sanctuary.
Traditional Christmas Eve Service

(Sat

, Dec 24, 8:00 pm)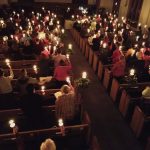 Experience the traditional Christmas Eve worship service with the candlelight, stories, and carols you love. Communion will be served.
The service will be live-streamed at Facebook and Youtube and will be available online afterwards.
Christmas Day: Carols and Cocoa 

(Sun

, Dec 25, 10:30 am)
Come celebrate the joy of the day! Come as you are–even in your pjs!–and join us in Wester Hall. We'll sip cocoa, sing carols by request, and hear stories instead of a sermon. Let's rejoice together!