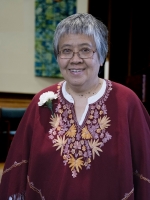 Aging with Grace Director
703-451-2900, #204
Yvette Moy is a spiritual director with the Richmond Hill School of Spiritual Direction. She currently serves in women's and healing prayer ministries at Prince of Peace Lutheran Church in Springfield, VA. Between 2004 and 2007 she was Minister of Outreach at St. John's Lutheran Church in Alexandria, VA, which included Hispanic Mission Development and early childhood education.
Since 2009, Yvette works as Crescent Project's Metro D.C. area coordinator sharing the hope of Christ with Muslims.
In February 2015, the Board of Directors of the Southeastern District of the Lutheran Church Missouri Synod selected Yvette as one of only three recipients of the Servant of Christ Award to recognize her lifetime of ministry among youth, homeless, Hispanics and Muslims as well as her short-term mission trips to China, Haiti and Turkey.