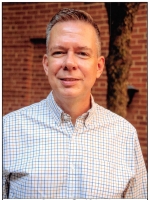 Scott Seifried has been the Music Director at Grace Presbyterian Church since 2004. Before coming to Grace, Scott was Music Director at Trinity Episcopal Church in Manassas, and prior to that, Director of Children's Music at Washington Street United Methodist Church in Alexandria.
In addition to working in music ministry, Scott is a professor of music at George Mason University. He previously taught guitar at Robinson Secondary School since moving from Pittsburgh to Fairfax in 1991. He is also an at-large member of the National Association for Music Education (NAfME) Council for Guitar Education, and a member of the Teaching Guitar Workshops National Guitar Education Team.
Scott is a graduate of Carnegie Mellon University (BFA), James Madison University (MM), and George Mason University (PhD). Scott and his wife, Laura, live in Clifton with their two daughters, Abby and Amelia.