Sing Silent Night Together this Christmas!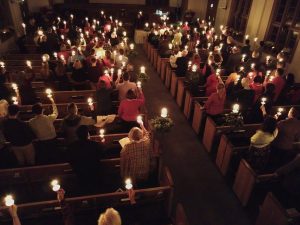 ALL Grace members and friends are invited to participate in our simple virtual rendition of "Silent Night." Please consider submitting a video with your family, to make our Christmas Eve all the more special.
Don't worry, there will be so many participants that your (beautiful!) voice will not stand out. It will all be blended together to sound like the whole congregation singing a hymn together--which is what we're going for! All levels of musical ability are welcome. This one is all about participation and community. Think of the poignant moment we all share on Christmas eve where we sing Silent Night together and see the hope of God's coming into the world. It is this experience of God's grace together we're hoping to recreate in a virtual way!
Here's how to participate. All submissions are due by Dec 16, but the sooner the better!
1. You and your family can view the words and/or music. Practice singing ALL FOUR VERSES along with Scott Seifried's recording a few times. When you record, you'll be singing along with Scott to help us all be synced up in the same key and same tempo. So keep this recording handy.
3. You'll also need to have headphones or earbuds on, plugged into Scott's recording. You can pull up the recording on your laptop or phone (but not the same phone you'll use to record).
5. Here are some ways you might set up your phone camera if you don't have a tripod or an extra person to record.
6. Press record on the phone and allow a few seconds of blank space--it's much easier for us to edit down later than try to erase a too-early start or your kid talking! Then press play on Scott's recording and sing along with your earphones! At the end, leave a few seconds of blank space again before you hop up to turn off the video.
7. When you've got a video done, send it to Pastor Katie. If you have an iPhone, it will probably be easiest to text her the video (contact her for cell number if you don't have it). If you have an Android, you'll need to use another method such as Google Drive, Google Photo, Dropbox, OneDrive to upload the video and email it to .
*You can also contact Pastor Katie anytime for technical advice. We want to help as many people as possible to participate!