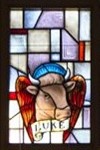 Grace kicks off the 2021 year with a church-wide study of the book of Luke. We have resources and opportunities for people of all ages! Individuals and families are invited to read, study, and discuss two chapters a week, following the schedule below. Whether you participate in class discussion or read on your own, we encourage you to share your thoughts about what you're reading with the other adults, children, and youth in your household. Consider a New Year's resolution of getting to know Jesus – and his interest in those on the margins – more deeply through this study!
| | | |
| --- | --- | --- |
| Week ending | Chapters | Selected Topics Include |
| Jan. 3 | Introduction | Overview of Luke; ways to engage scripture |
| Jan. 10 | Luke 1, 2 | Luke's birth narrative |
| Jan. 17 | Luke 3, 4 | Jesus' preparation and beginning of his ministry (Galilee) |
| Jan. 24 | Luke 5, 6 | Calling apostles; Sermon on the Plain |
| Jan. 31 | Luke 7, 8 | Healings and parables in Galilee and across the Sea |
| Feb. 7 | Luke 9, 10 | Sending out the disciples; nature of discipleship; start of the journey to Jerusalem |
| Feb. 14 | Luke 11, 12 | Teachings, parables, and controversies |
| Feb. 21 | Luke 13, 14 | Teachings and healings; the cost of discipleship |
| Feb. 28 | Luke 15, 16 | Parables on joy and wealth |
| Mar. 7 | Luke 17, 18 | Teachings, healings, and the coming kingdom of God |
| Mar. 14 | Luke 19, 20 | Jesus arrives in Jerusalem |
| Mar. 21 | Luke 21, 22 | Jesus' final teachings; the Last Supper; arrest and trial |
| Mar. 28 | Luke 23, 24 | Jesus' crucifixion, resurrection, and post-resurrection appearances |
You can download a copy of the reading schedule for adults and youth here.
See the Luke for Children and Their Families section below for an adapted schedule for children.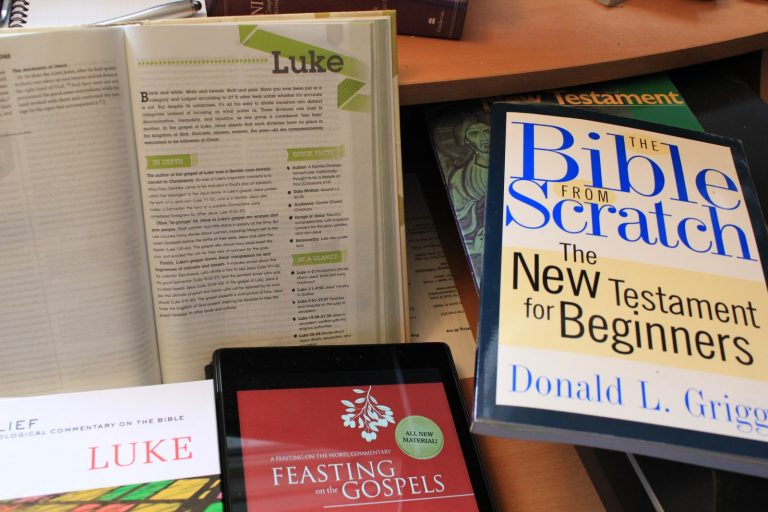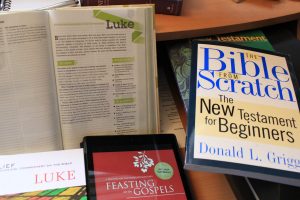 All you need is a Bible. Or you can click on the links to the scripture passages in the schedule above. Read a couple of chapters from Luke each week. If you miss a chapter or two along the way, that's okay. You can pick up where you left off or jump ahead to join us. If you're interested in going into more depth, here are some questions to consider as you read through the chapters.
Guiding Questions:
What did you learn about God, Jesus or the Holy Spirit?
What surprised you? What scared you? What is important to you?
How will this affect your everyday life?
Luke for Adults and Their Families
Adults can join the OASIS adult class (Sunday, 9:15 a.m.) or the YAM (Young Adult Ministries) class (Sundays, 7:00p.m.) to discuss the assigned Luke chapters for the week. You are encouraged to read the 2 chapters in one or more sittings throughout the week and make note of any questions or insights that occur to you. (See the Guiding Questions above.) Resources such as websites and commentaries are provided for you below if you would like to deepen your study, but that is completely optional. If you have children or youth in your household, use the ideas on this page to have ongoing conversations with them about each week's reading.
We will add the Power Point presentations and handouts used in the adult classes here. Visit each week to view and/or download the presentations:
Luke for Youth and Their Families
Youth and their families are invited to join the adults in reading 2 chapters of Luke a week, either individually or together. Then, use the Youth Family Guide to engage more deeply with a particular story.
Luke is all about Jesus' call to mission and service, so the discussion and action guide will give you a story to focus on and an action of service or advocacy you can do together as a family. Families with older elementary-age children and/or young adults may also enjoy these challenges.
Luke for Children and Their Families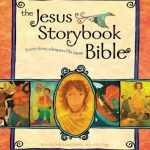 For children, we've put together 1-2 stories to accompany the adult chapters each week. We encourage families to read and share in these stories together.
We are using the Jesus Storybook Bible for young children and Deep Blue Kids' Bible for older children. If you don't have one, let Pastor Katie know so we can provide you one to read along.
You can download a copy of the readings for children and families here.
You can also see a children's sermon video of the story for the week on the Grace For Kids playlist on YouTube. Search for "Learning with Luke."
Here are selected resources – both online and from Grace's library – for those who want to dig even deeper.
From Grace's Library:
Luke: Interpretation: A Bible Commentary for Teaching and Preaching by Fred B. Craddock. 2009. Westminster John Knox Press.
Feasting on the Gospels--Luke, Volume 1: Chapters 1-11 and Volume 2: Chapters 12-24 by Cynthia A. Jarvis (Editor), E. Elizabeth Johnson (Editor). 2014. Westminster John Knox Press.
Online Resources:
Bible Study Tools: Book of Luke
Bible Project: Luke-Acts Series