Join our church-wide study of the book of The Acts of the Apostles (a.k.a. "Acts") this fall. Acts picks up where the Gospel of Luke ends. Written by the same author, Acts chronicles how Jesus's disciples/students turned into apostles (messengers sent out). In Luke we see Jesus teaching counter-cultural ideas about welcoming the outsider, prioritizing the poor, and sitting at table with all of God's children. In this study of Acts, Grace will explore how the early church realized these teachings "on the ground," forming working communities that attempted to embody God's great love. How did the apostles handle differences in theology? How did they treat each other? How did the earliest Christian communities structure themselves during this turbulent era, what role did the Holy Spirit play, and what lessons can we draw for our own turbulent era?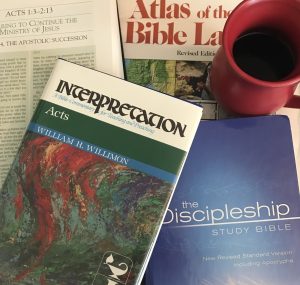 We have resources and opportunities for people of all ages. Individuals and families are invited to read, study, and discuss 2-3 chapters a week, following the schedule below. Whether you participate in class discussion or read on your own, we encourage you to share your thoughts about what you're reading with the other adults, children, and youth in your household.
What Do We Need?
All you need is a Bible. Read 2-3 chapters from Acts each week. If you miss a chapter or two along the way, that's okay. You can pick up where you left off or jump ahead to join us. You may also want to check out the Additional Resources section below for websites and commentaries that can be used to deepen your experience with Acts, but these are completely optional.
For Adults

Adults can join the OASIS adult class (on Zoom, Sundays, 8:30 - 9:30 a.m.) to discuss the assigned Acts chapters for the week. You are encouraged to read the 2-3 assigned chapters in one or more sittings throughout the week and make note of any questions or insights that occur to you.
Willie James Jennings (in Belief: A Theological Commentary on the Bible – Acts) says that "the book of Acts... depicts life in the disrupting presence of the Spirit of God." [p. 1] As we read Acts, you are invited to consider these Guiding Questions:
How is the Holy Spirit at work? How is it described?

How do the people in that era recognize it?

What is the response… from the ones through which the Spirit works? From others around them?

What changes/transformations/upheavals do we see in the community of faith?

What would be the reaction to this today?

What might the Spirit look like today?
When we gather in Zoom, we will explore your insights and questions in small group and large group discussions.
Reading Schedule
Date      Passages             Themes
9/12       Intro; Acts 1-2    Theology of Acts. Jesus' ascension and arrival of the Holy Spirit
PPT: Acts of the Apostles Intro Ch1-2.pdf
9/19       Acts 3-5               The early church in Jerusalem
Handout: Chapters 3-5 SUMMARIES
PPT:  PPT Acts 3-5 OVERVIEW & QUESTIONS
9/26       Acts 6-8               Persecutions and scattering into Judea and Samaria
Handout: Chapters 6-8 SUMMARIES
PPT:  Acts-of-the-Apostles-Ch-6-8.pdf
10/3       Acts 9-10             Saul's conversion; Peter and the Gentiles
Handouts:  Acts-Chapters-9-10-SUMMARY.pdf
Rough-and-Somewhat-Speculative-Chronology-of-Paul.pdf
PPT: Acts-of-the-Apostles-Ch-9-10.pdf
10/10    Acts 11-12           The church in Antioch; James killed and Peter imprisoned
Handout: Acts Chapters 11-12 Summary.pdf
PPT: Acts of the Apostles Ch 11-12 ppt.pdf
10/17    Acts 13-15           Paul's first missionary journey
Handout:  Chapters 13-15 SUMMARY
PPT: PPT Acts 13-15
10/24    Acts 16-18           Paul's second missionary journey
Handout: Acts 16-18 SUMMARY
PPT: PPT Acts 16-18
10/31    Acts 19-20           Paul's third missionary journey
Handout: Acts 19-20 SUMMARY
PPT: Acts  of the Apostles Ch19-20 ppt
11/7       Acts 21-23           Paul's return to Jerusalem and arrest
Handout: Acts 21-23 SUMMARY
PPT: Acts  of the Apostles Ch 21-23 ppt
11/14    Acts 24-26           Paul's trials and defense
Handout: Acts 24-26 SUMMARY
PPT:
11/21    Acts 27-28           Paul is taken to Rome
Handout: Acts 27-28 SUMMARY
PPT: Acts  of the Apostles Ch 27-28 ppt
You can find a more detailed outline of the Book of Acts with the reading schedule here: Outline for Acts of the Apostles
The OASIS facilitators will add the Power Point presentations and handouts used in the adult classes as we move through the study. Visit each week to view and/or download the presentations.
For Children, Youth, and Families
Children, youth, and families will have opportunities to explore the story of the church (and our place in it!) through interactive, intergenerational learning this fall. Join us for our new GIFT program (Growing in Faith Together), once a month on Sunday after worship (11:45-12:45).
Sept 12- The Gifts and Call of the Holy Spirit (Acts 2)
Oct 3- The Church is Global (Acts 10)
Nov 7- The Church is Called to Share (Acts 4)
Dec 5- The Church Has Hope in Jesus (Advent/Christmas)

Additional Resources
This website provides an overview of the book of Acts, including discussion of its author, when it was written, and major themes. You can also read Acts online from this site.
This website offers a set of videos about Acts. Each video covers several chapters at a time. Excellent to view before reading the assigned chapters to get an overview of the content, after reading as a review, or in place of reading! (Once you click on the link, scroll past the videos on Luke to find the set on Acts.)
Interpretation Bible Commentary for Teaching and Preaching: Acts by William H. Willemon. (2010). Westminster John Knox Press. (Available in the Grace library.)
BELIEF: A Theological Commentary on the Bible: Acts by Willie James Jennings. (2017). Westminster John Knox Press.