Materials for the Report to the Congregation, November 4, 2018
___________________________________________________
Grace Presbyterian Church hosted a trip to Israel, Palestine, and Jordan in the fall of 2018. Family and friends from other churches across the country joined Grace members to create a travel group of 21. Susan Wilder led the group, with able assistance from Kathy Drinkard and Ben Trawick.
The trip was called "A Pilgrimage of Discovery" and involved a multifaceted set of "discoveries." The group engaged in four major activities: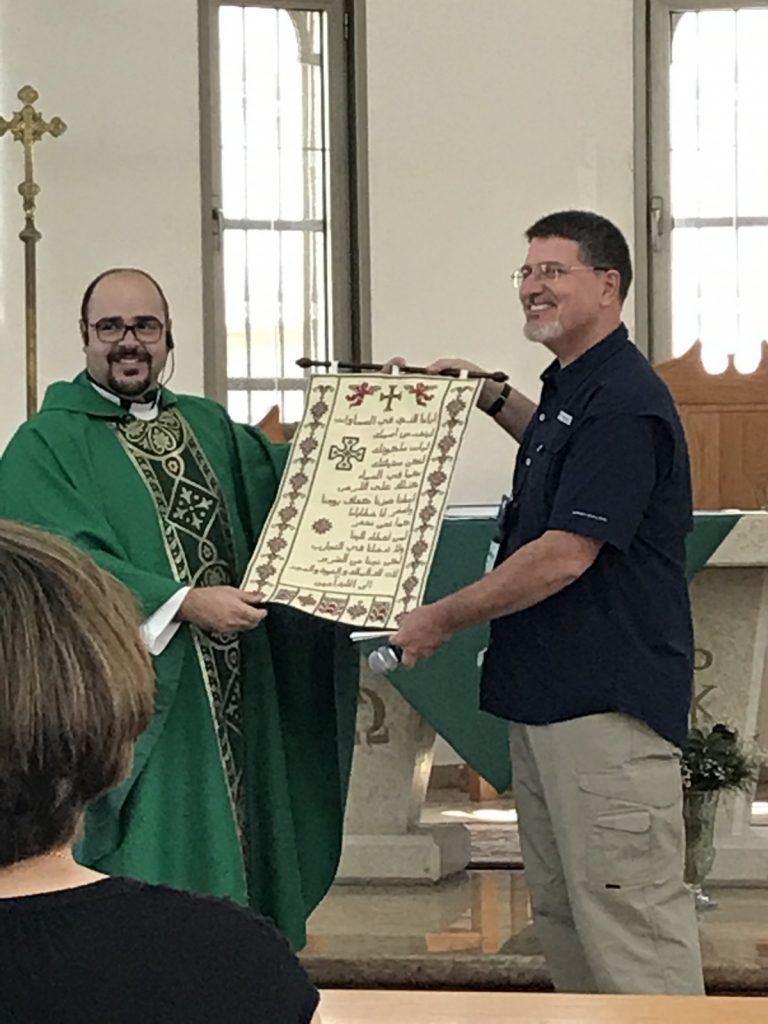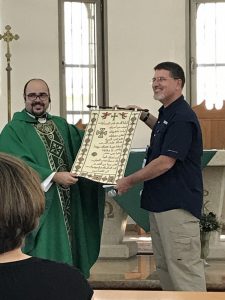 1) Reconnecting with our partner church in Nablus, Palestine, and with Father Ibrahim, who is now at a church in Zarqa, Jordan
On the first two nights of the trip, the group stayed in the homes of church members. They also attended worship on Sunday, September 30, at The Church of the Good Shepherd, the Rafidia satellite of the St. Philip's Episcopal Church in Nablus. The Grace members offered as gifts some pieces from the Grace congregation's communion set and a calendar of D.C. photos taken by Alan Goldstein. The Nablus congregation gave the Grace church a beautiful embroidery of the Lord's prayer.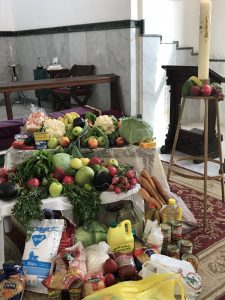 On October 7, the group worshiped with Father Ibrahim, the previous pastor at the Nablus church, in his new church in Jordan. The congregation was having a Thanksgiving-style service and provided a reception for the group afterwards.
2) Visiting holy sites
The travelers experienced the holy sites in Israel, Palestine, and Jordan, exploring how each site was portrayed scripturally and reflecting on its personal spiritual significance. They visited:
Jacob's Well
Capernaum Synagogue and Peter's house
Sea of Galilee ( "Jesus Boat")
Church of the Multiplication
Church of the Beatitudes
Zacchaeus tree
Mount of Temptation
Western Wall
Haram al Sharif/Temple Mount
Church of St. Anne
Via Dolorosa (The Stations of the Cross)
Church of the Holy Sepulcher
Tombs of the Patriarchs/Cave of Machpelah,
Mount of Olives
Garden of Gethsemane
Church of Dominus Flevit
Church of All Nations
The Church of the Nativity
Jordan River (Bethany the Baptismal site)
Mt. Nebo
Greek Orthodox Basilica of Saint George (Madaba)
3) Exploring the Israel-Palestine conflict
A major purpose of the trip was to obtain a better understanding of the conflict between Israel and Palestine. The group met with officials, organizations, and individuals who address the conflict from their own perspectives. The group also experienced restrictions common to the Palestinians, including water limitations, checkpoint searches, and segregated road access. The people and places visited included:
Luke's Hospital
Mar Elias High School, Ibillin
Doug Dicks (Presbyterian Representative)
Christian Peacemaker Team
Issa Amro of Youth Against Settlements
Ephrata Settlement
Tent of Nations
Diyar Consortium/Dar al-Kalima University College
Bethlehem Mayor
Jerusalem tour with an Israeli Guide
Aida Refugee Camp
The Separation Wall
Checkpoints
Restricted roads
4) Discovering Jordan
Although the church had sponsored trips to Israel-Palestine in the past, it had not included Jordan before this trip. The group explored holy sites (mentioned above) in Jordan, as well as:
These cities: Amman, Zarqa, Kerak, Petra, Jerash
These historical sites: Um er-Rasas, Kerak Castle, Shoubak Castle, Petra, Wadi Rum, Jerash