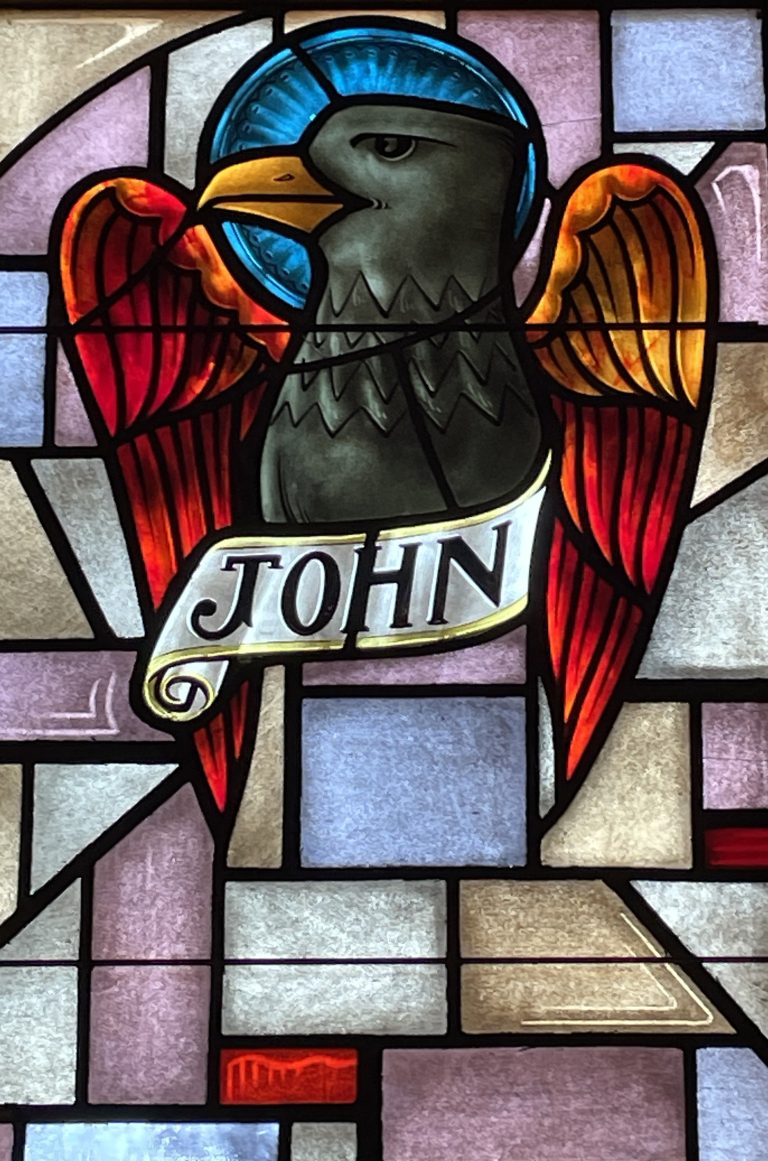 Starting
January 8, 2023
, the OASIS class will dive
into a new adventure – looking at the
Gospel of John
. During the weeks leading up to Lent, we will study Jesus' ministry as it is laid out in the first part of the gospel. During Lent, we will look at how John describes Jesus' final week, including his death and resurrection. We will see together how different John's gospel is from the so-called synoptic gospels (Matthew, Mark, and Luke). It is
different in content
(No baptism! No institution of the sacrament of communion at the last supper!) and it is
different in its message
– a vital and inspiring complement to the way the gospel is presented in the other three gospels. 
In the other gospels Jesus generally tries to conceal his identity.  John, by contrast, is all about revealing Jesus' identity.  Maybe that is why John was a favorite gospel for the Protestant reformers.  Martin Luther called John "the one, fine, true, and chief gospel…to be far, far preferred over the other three."  Calvin saw John's gospel as "the key to open the door for understanding the rest."  As we look together at this fascinating and inspiring gospel, let's pray that God uses it to unlock in each of us a deeper understanding of God's purposes for us here today at Grace. The class meets on the lower level in the Family Room and on Zoom every Sunday morning, 9:00-10:00am. All are welcome!
How Do I Participate?
All you need is a Bible. Read 1-2 chapters from the Gospel of John each week, following the schedule below. If you miss a chapter or two along the way, that's okay. You can pick up where you left off or jump ahead to join us. If you want a deeper dive, check out what a commentary or study bible has to say about the reading. The discussion is richer when we share different perspectives! 
If you want to participate in the OASIS class via Zoom, do make sure you're on the Adult Discipleship email distribution list. Just call the church office to start that process. Leaders send out reminder emails each Thursday or Friday and include the Zoom information. You can also access the link from the Grace E-News.
Schedule and Class Materials
The schedule is below. Check back after each week's discussion for materials shared during the class.
| | |
| --- | --- |
| Jan 8 | Introduction to John & John 1:1-18 – The Prologue |
| Jan 15 | John 1:19-2:25 – John the Baptist, Calling Disciples, Miracle at Cana, Cleansing the Temple |
| Jan 22 | John 3-4 – Nicodemus & the Samaritan Woman |
| Jan 29 | John 5-6 – Healing on the Sabbath, Feeding the 5000, Walking on Water, Bread from Heaven |
| Feb 5 | John 7-8 – Teaching in Jerusalem & The Adulterous Woman |
| Feb 12 | John 9-10 – Healing the Blind Man & Jesus the Good Shepherd |
| Feb 19 | John 11-12 – Raising of Lazarus & the Triumphal Entry |
| Feb 26 | John 13 – Footwashing & Farewell Discourse (1) |
| Mar 5 | John 14-15 – Farewell Discourse (2) |
| Mar 12 | John 16-17 – Farewell Discourse (3) |
| Mar 19 | John 18 – Arrest and Trial |
| Mar 26 | John 19 – Crucifixion and Burial |
| Apr 2 | John 20-21 – Resurrection and Post-Resurrection |
| Apr 9 | No Class |