Grace offers a variety of Christian education opportunities for all ages. Our Christian education classes are currently meeting virtually.
All offerings for children and youth follow our Child Protection Policy; all staff and volunteers have been background checked.
Contact Pastor Katie for more information about any of our Christian formation activities!
For Children
Compassion Camp (preK-5th grade)
For Summer 2020, Grace is offering a hybrid virtual/at home Christian formation opportunity for children. Each Sunday morning from 9:30-10 am, children "Zoom" with the teachers to hear the song, Bible story, and theme for the week. Then, they work on crafts, games, and other activities throughout the week at home, to reinforce the learning. This at-home Vacation Bible School is taught by Kathy Giese and Judy Smith.
Fall programs are still in development as we figure out what will work best with the limitations of the pandemic.
For Youth

Middle and High School
Our middle and high school youth typically meet for Christian education during the Sunday School hour. Fall programs are in development for 2020-21.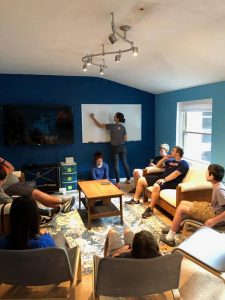 In the past, middle school has used Echo the Story curriculum to cover the whole arc of the Bible making connections between Old and New Testaments. The high school class has most recently studied what it means to be a follower of Jesus with studies from Viva! and Thoughtful Christian.
Middle and high school youth also have opportunities for spiritual growth in the context of faith discussions and hands-on service opportunities in youth group.
Confirmation Class
The Confirmation class is typically open to 8th graders and above. Over a school year, confirmation candidates explore questions of Christian faith in order to prepare them for commitment to the Christian life and membership in the church using the Big God, Big Questions curriculum. The next confirmation class will be in 2021-2022.
Check out the Adult Education page for offerings for adults.
Intergenerational:

First Wednesday GIG (Growing in Grace)!
Dinner: (informal; come when you're able): 5:30-6:30p.m.
Programs: 6:30-7:30p.m.
Wester Fellowship Hall
Dinner, fellowship, programs, and activities for all ages!! Join us in the fellowship hall on the first Wednesday of the month for dinner and an intergenerational program. Dinner starts at 5:30; programs start at 6:30. The heart and soul of GiG is table fellowship and physical presence with one another; this program is currently on hiatus due to the pandemic.