During the 2019-2020 church year, Grace offers a variety of Christian education opportunities for all ages.
All offerings for children and youth follow our Child Protection Policy; all staff and volunteers have been background checked.
For Children
Sunday mornings, 9:15-10:15
Nursery
A nursery is provided during the Sunday worship service and for most special worship services. We have two professional nursery workers who provide comforting care to our little ones. Contact Kathy Giese, Children's Discipleship Elder, for more information.
K-5th Grade
This class meets in Room 2 on the church's lower level. The Feasting on the Word lectionary curriculum follows the readings we use in worship, and offers a fun re-telling of the week's Bible story, along with opportunities for crafts, re-telling, and service projects to help apply the story. The class is taught by Judy Smith and Jennifer Paulo.
For Youth (Sunday mornings, 9:15-10:15)

6th-8th Grade
Our middle school class is currently on hiatus as all of our middle schoolers this year are embarking on their confirmation year! Parents of new or visiting middle schoolers are encouraged to contact Pastor Katie to discuss the best place for them to attend on Sunday mornings.
Typically, the middle school class uses the Echo the Story curriculum to cover the whole arc of the Bible in 36 weeks, making connections between Old and New Testaments. The class has most recently been taught by Kathy Giese and Greta Miller.
Confirmation Class
The Confirmation class meets in the Tower Room upstairs and is typically open to 8th graders and above. Confirmation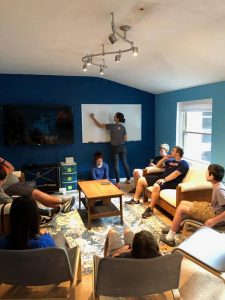 candidates explore questions of Christian faith in order to prepare them for commitment to the Christian life and membership in the church. The class is currently using the Big God, Big Questions curriculum and is taught by Dave Buckley, Kathy Giese, and Greta and Joe Miller.
9th-12th Grade
This class meets in the Youth Room on the Balcony level. This year, the class is focusing on what it means to be a follower of Jesus, using Viva! and Thoughtful Christian studies. Tim Stryker, Kim Hatfield, and Valerie Wenderoth are the primary teachers.
Check out the Adult Education page for offerings for adults.
Intergenerational:

First Wednesday GIG (Growing in Grace)!
Dinner: (informal; come when you're able): 5:30-6:30p.m.
Programs: 6:30-7:30p.m.
Wester Fellowship Hall
Dinner, fellowship, programs, and activities for all ages!! Join us in the fellowship hall on the first Wednesday of the month for dinner and an intergenerational program. Dinner starts at 5:30; programs start at 6:30.
Programs for Fall 2019 include "Woman at the Well in Modern-Day Nablus" (Oct. 2); "Thinking of Thanksgiving" (Nov. 6); and "Wreathing the Advent" (Dec. 4).