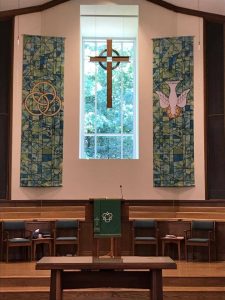 In this, the first of my pastoral blogs, I thought I would address my preaching. It is the focus of the majority of the questions I get about my work as a pastor (How do you decide what to preach on? What tensions do you struggle with? Why do you get "so political" sometimes?) I can't answer all those questions fully here, but I do want to (a) let you know I appreciate and encourage questions like that and (b) lay out my thinking in broad terms for you.
Preaching is challenging, humbling, and powerful work. A sermon is one person's attempt to study scripture and to interpret it to speak faithfully to God's activity or God's call in an often-complex world.  When I preach, I am seeking to combine my theological understanding and study of the Bible, my own insight, my knowledge of what my congregation is experiencing/feeling that needs addressing, and prayerful consideration of what God has to say to me and them at the particular moment.
As a Presbyterian Church (USA) pastor, I typically follow the Revised Common Lectionary. This is a three-year cycle of scripture readings used by a number of Protestant churches (so, on any given Sunday, I might be preaching on the same passage as the Methodist or Episcopal pastor down the road). Each week, the lectionary includes an Old Testament passage, a Psalm, a New Testament passage from one of the epistles, and a text from one of the four gospels. Passages are selected in harmony with each other and in keeping with the rhythms of the church year (Advent, Lent, Pentecost, etc.). I read all of the selected passages and select one or more to study in depth for the sermon. Following the lectionary ensures that I cover the scope of the Bible and don't get tunnel vision. It also potentially allows conversation between Grace's members and friends from other churches (how did your pastor deal with that passage?) However, there are times when I will attempt a series around a theme, instead of following the lectionary. Some of you will recall that I preached a series soon after I first arrived, when I discussed what I thought the name of Grace Presbyterian Church was calling us to be as a church. I will also depart the lectionary to embrace current events, especially when they are momentous and, I feel, deserving of community lament, repentance, or joy.
Because so much of what is causing us anxiety right now as a people has a political dimension, it may seem that some of my sermons are "political." I'd like to say a word about that.  One reality is that the Biblical text itself is often a political text.  Jesus, for example, had much to say about money and the use of it, about power and the abuse of it, or about the just treatment of the poor and the marginalized.  All of these are "political" topics. And sometimes, the scriptures may pointedly challenge some of the political decisions or discussions of the day. So, a political Biblical text on a political topic will of course yield a "political" sermon. But my intent—always—is to offer a spiritual lens through which to view, evaluate, and transform our common culture and our dialogue. In Romans 12:2, Paul writes, "Do not be conformed to this world, but be transformed by the renewing of your minds, so that you may discern what is the will of God—what is good and acceptable and perfect." We are so embedded in our culture that it's hard to think outside it; my job is to push myself—and then us—to imagine an alternative way, God's way, of seeing our circumstances.
I understand the sermon to be a theological conversation starter, and not an end unto itself. I do not expect you to agree with every viewpoint I articulate or every scriptural interpretation I put forth (after all, the hearers of sermons are interpreters of scripture also, and we have many different worldviews and experiences).
(Via GIPHY)
However, I don't feel that church is a place to shy away from challenging conversations or controversial topics—rather it is a precisely a place to have those difficult conversations in a context of humility, love, and prayer. For instance, the recent sermon on gun violence ("A Sickness in the Body") was my attempt to ground responses to the Parkland school shooting in the Word of God. A variety of political responses or viewpoints on gun policy are possible, but, as the people of God, we need to remember where we need to start our deliberations. My job as your pastor is to keep bringing us back to God's purpose, as revealed through scripture and particularly through Jesus.
Long ago, I made several commitments which I try to honor faithfully in my preaching.
Sometimes, events call for a prophetic word or a scriptural challenge. Often, when preaching prophetically, I am "stepping on my own toes," and the sermon is as much a challenge to my own faith as to the congregation's.  When offering what feels to me an appropriately prophetic word, I will endeavor to speak with honesty and authenticity, and without intent to offend.
I will endeavor to make my sermons relevant to current events and emergent crises (if there is a riot or a mass shooting and the sermon ignores it, for example, that is a missed opportunity to respond to people's grief and pain). If I must change a sermon on a Saturday night to respond to emerging events, I will do so, preferring a sermon that is imperfect or raw to one that "misses the moment."
I will invite and accept critique or challenge with grace, and appreciation with gratitude.
I will love my congregation and never take for granted the privilege of being heard.
That should provide you with a big picture of how I approach preaching. Let me know what other questions you have related to preaching, faith, theology, or church workings, that you would like me to address in the blog. I look forward to communicating with you via this platform!
Ben