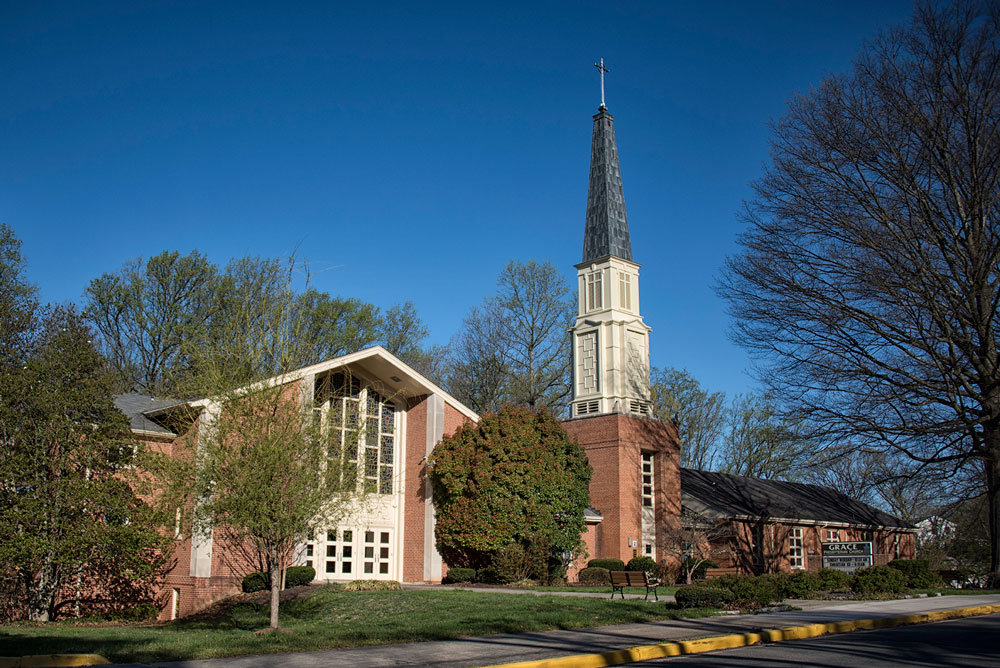 We're always glad to welcome new visitors at Grace. We hope you'll join us for worship! We want to make your visit as comfortable as possible, so here's what you can expect on a typical Sunday morning.
Our church is located on the corner of Bath and Grace Streets in Springfield. There is a large parking lot on the south side of the church, and a smaller lot on the north side of the church. Handicap parking is available on Bath Street and in the north parking lot.  There is an elevator on the ground level, if needed, to get to the main level if you park in the north lot, and all main level entrances are accessible with no steps.
Please know there is not a dress code. Wear what's comfortable for you. You'll see people dressed casually and people in business attire.
You're likely to be greeted by someone at the door, who will be glad to answer questions. They'll help you find the nursery and Sunday school rooms for you and your kids. They can also point you to the restrooms, sanctuary, and fellowship area. If you have any questions about the service itself, the greeters are able to provide helpful answers.
From September-May, we offer Sunday school classes at 9:15 for everyone aged 4 and up. The classes are designed in a way that you can jump in any time. Following the children's message in worship, we offer Play 'n Worship for our preschoolers.  They are dismissed to hear a story and do an activity, then move to the nursery for the rest of the service. For children ages 4 to 7, we offer Bridges to Worship following the children's message. Bridges is based on the Godly Play curriculum where children enter a worshipful environment to hear a story and respond to the story.  They are dismissed to parents after worship with an individual blessing.
Worship begins with announcements and the passing of the peace at 10:30.  You can read more about it on our Worship page.
Following worship, we invite you to join us for coffee and snacks in our fellowship hall. You'll have a chance to meet our pastors and many other people in the church. We'd also love to get to know you so you're a familiar face the next time you come.
Several times a year, we have a "mission build" during the fellowship time to put together snack packs for one of the local elementary schools and hygiene kits for Church World Service. During the summer, we have our "CROP Table". Folks bring in herbs, vegetables, and flowers from their gardens, or baked goods, honey, and preserves, and sometimes craft items.  One member makes amazing bread and butter pickles. People make a donation that goes to support CROP – we participate in the Burke CROP Walk to End Hunger every year. Donations received from the CROP Table support this mission.