Grace Presbyterian Church of Springfield is a mission-driven church whose outreach is directly determined by the congregation. Based on the interests and callings of our members, Grace is actively involved in mission both locally and internationally. We take seriously the apostle Paul's admonishment that together we are the Body of Christ, called to do the Lord's work, loving our neighbors as ourselves. It is the duty of the mission elder and the Mission Committee, as engaged by the congregation, to ensure that mission funds are spent on activities in which members are actively engaged. You are invited to explore the joy of service through the opportunities offered at Grace. Regardless of specific talents or amount of time available, there is an activity for you to engage God's people.
Local Missions
Locally, Grace offers a wide range of mission activities to express God's love, from weekly sponsoring of a parenting class for families at risk, quarterly "All Hands" in-church mission events, to one-time annual events such as preparing Thanksgiving food baskets. Grace is one of the founding churches of ECHO (Ecumenical Community Helping Others), and remains actively engaged through food collectio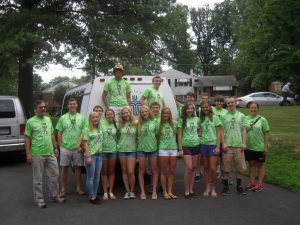 n, member participation and funding. Grace's emphasis on mission is reflected in the activity of our youth. In the spring, Grace youth participate in the 30-Hour Famine, a weekend of fasting and service to learn the meaning of hunger; funds raised go to support the hunger program of World Vision. Members of Club 456, grades 4 through 6, go on a summer mission trip. High school age youth participate each summer in the Tri-Cities Workcamp. In the fall entire families, sponsored by the Mission Committee, participate in the Burke CROP Walk.
Tri-Cities Work Camp
Youth are invited to spend one week each summer rebuilding homes and lives! We construct porches and wheelchair ramps while reconstructing hope in families. We brighten up homes with new walls and paint while brightening up lives as well. At the end of the week, the Grace youth group has gained work skills and new friends plus a greater understanding of people and God's love. For more information see Tri-Cities Workcamp Progress. Also, call Alisa Laska at 703-451-2900, Option 6, or e-mail her.
Global Missions
Ministry for Middle East Peace and Justice
The Ministry for Middle East Peace and Justice was formed in 2004, for the purpose of educating its members and the Grace Congregation on the Palestinian/Israeli conflict, building stronger ties to the Christian Church in the Holy Land, and advocating for Palestinian human rights, and for justice, peace and security for all who live in Israel/Palestine.
Prominent in the ministry's activities is the support of an Anglican congregation that worships at St. Philip's Episcopal Church in Nablus and the Church of the Good Shepherd in Rafidia.
In addition, the ministry seeks to conduct learning opportunities for our congregation and the wider community, provide economic support to Palestinians struggling under occupation, and support the PCUSA's advocacy for Palestinian human rights.
As part of our Alternative Gift Fair each November, we sell Palestinian goods, the proceeds of which are returned to Palestinian crafts men and women. In addition, this year for the first time, our olive oil sale will provide funding for Tent of Nations as well as the olive oil producers - Canaan Fair Trade.
At the conclusion of a successful film series, the ministry decided to create a "film series kit."  This kit is available for others to borrow and to learn from our experience.
For more information, please contact Kathy Drinkard.
Honduras Mission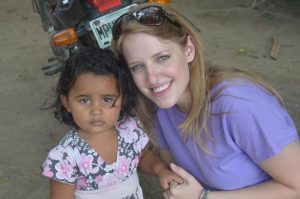 Beginning in 2000, Grace has sent mission teams each summer to central Honduras through our relationship with Honduras Outreach Inc. The teams participate in community improvement projects. The mission trips have a lasting impact not only on the villagers, but on the mission team members as well. Information on past trips can be found on the Honduras mission page. The Honduras Home Team also raises funds to provide scholarships for Honduran high school students, as public education is available only through sixth grade.  For more information, go to Grace In Honduras and History of the Honduras Mission.  For more information contact Heather Sarmiento at .moc.1532152039liamg1532152039@atla1532152039gaeda1532152039rreis1532152039