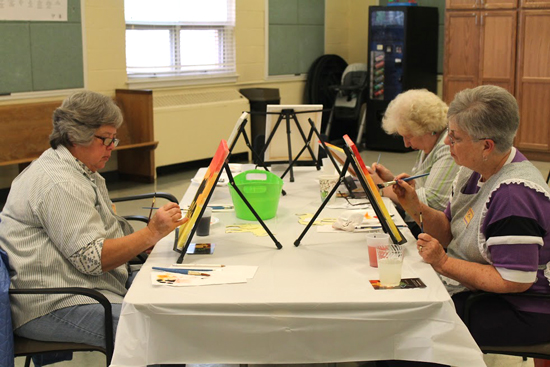 Aging with Grace began a new chapter in providing for the spiritual journey of seniors at Grace.  The Caregivers' Support Group began studying Missy Buchanan's Living with Purpose in a Worn-Out Body: Spiritual Encouragement for Older Adults and listening to Regina Brett's God Never Blinks: 50 Lessons for Life's Little Detours. In addition a resource table was provided for the Longest Night Service including Tim Jackson's Life After Loss: Grieving with Hope, Alice Matthew's God With Us: The Promise of Christmas and Billy Graham's Heaven DVD.
Some members went on a trip to the Library of Congress where Bob Patrick was our docent. Others went to see actor David Payne as C.S. Lewis at Cornerstone Evangelical Free Church in Annandale. The theatrical experience was well received. Yet another outing was to Dr. Amy-Jill Levine's seminar, Understanding Jesus Means Understanding Judaism, at Emmanuel Lutheran Church, Bethesda, MD. The Lilly Endowment sponsored the event that included a free copy of The Jewish Annotated New Testament.
Nearly 50 attended the Advent lunch in Wester Hall.  The Chime Choir from Greenspring presented the Christmas program and Santa visited children in preschool before naming door prize winners. Trailblazers and Bunco groups continue to meet monthly for fellowship
Several Brown Bag lunches were held including one led by Connie Denninger on Bible journaling and praying in color. Visits were made to some of the homebound and weekly bulletin were sent to those who cannot attend Sunday services.
Yvette Moy
Director of Aging With Grace
Coleen Austin, Elder